Paradise in the Pacific, Big Island and Kauai
January 15th-23rd 2018, 6 participants, $3895 per person
FULL! Contact me for waiting list.
This workshop is designed for people with a spirit of adventure who want to experience and photograph two of the most beautiful Hawaiian Islands, the Big Island of Hawaii and Kauai. We will spend 4 days on each island, exploring the diverse range of landscapes that they offer: lava and volcanoes, thousand-year-old hardened lava rock, rugged coastal cliffs, 14-thousand-foot mountain peaks, lush rainforest, massive waterfalls, the 'Grand Canyon of the Pacific', and the completely unique spectacle of the Napali Coast. Included in this workshop will be a guided hike to the lava ocean entry, a boat tour to view the lava ocean entry from the water, a dinner and photography cruise along the napali coast, and a 90-minute photography helicopter flight over the island of Kauai, focusing on the Napali coast and the dramatic mountains inland with waterfalls plummeting hundreds of feet to the ground!
All levels of photographers are welcome, and with a small group size of only six participants, you will receive as much dedicated instruction as you desire. The workshop begins with an opening seminar about composition and in-field techniques to ensure that you hit the ground running when we start shooting. Near the end of the trip, we will hold a substantial processing session in the comfort of a hotel conference room. Our unique approach to this processing session involves a presentation of topics to build from a foundation of fundamental techniques towards a series of cutting-edge case studies. We cover a huge range of techniques, tips, and tricks, including raw file preparation, a variety of blending techniques, different approaches to focus stacking, creative dodging and burning, creating color harmonies, artistic finishing touches, and much more. Simply put, you're going to learn something!
So come along, see Hawaii in a way few people ever do, and get the opportunity to create some images that even fewer get the chance to create!
What's Included/Not Included
Included
Guidance to the best photography locations.
Guided tour to the lava ocean entry via land.
Boat tour of the lava ocean entry.
Helicopter photography tour of Kauai.
Dinner and photography cruise along the Napali Coast
In field instruction on capture technique(composition, compensating for high dynamic range, focus stacking, among other techniques).
A composition and in-field technique seminar at the beginning of the workshop to ensure you get the most out of your time.
And additional processing instruction course including everything such as raw processing, blending exposures using luminosity masks, focus stacking, focal length and perspective blending, the Orton effect, artistic finishing touches in photoshop, and preparation and sharpening for web and print.
Lodging (dual occupancy, single occupancy available at an additional charge).
Some Breakfasts supplied by various lodging.
Guaranteed adventure.
Not Included
Meals and Snacks (Plenty of dining options and markets are available at all lodging locations)
Transportation while on the islands. It will be the responsibility of the participant to rent a vehicle and drive themselves to all locations. This will be done caravan style.
Gratuities for all services.
Flights to Hawaii, and from Big Island to Kauai
Excursions
Boats, Helicopters, more boats, oh my! We have several fantastic excursions planned for this trip to get you access to as many vantage points of Hawaii's spectacles as possible!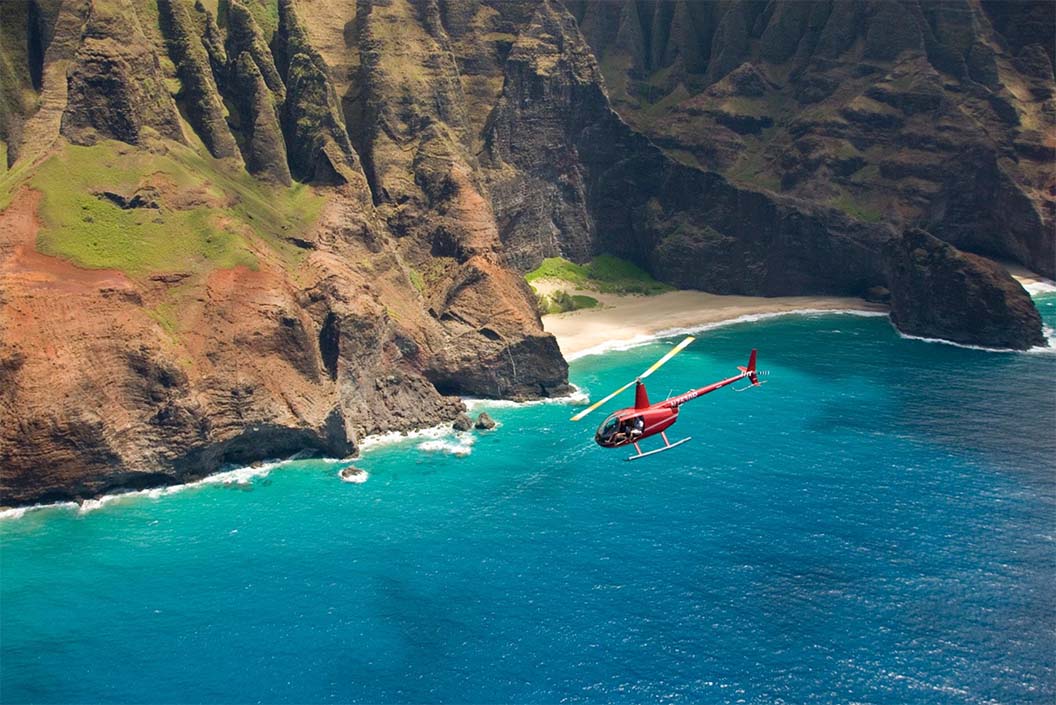 Lodging
There will be no roughing it on this trip! Included in the tuition is exceptional lodging to increase the comfort of your stay on the Hawaian islands. All of our accomodations are on the coast, and have access to amazing amenities for some fantastic lounging during non-shooting time!
Safety Preparation and Physical Requirements
While adventure and great photos are our main goal, your safety is a priority along with treating the land we travel on with respect, practicing "leave no trace" ethics. Ted is a seasoned backcountry traveler, and Wilderness First Responder certified by Wilderness Medical Associates.
In order for participants to have a comfortable experience where they can concentrate on the photography, it is highly advised that you be physically able to hike comfortably over strenuous terrain for several miles. At times we will embark on hikes of a couple miles in length. It is also advisable to have proper attire consisting of non-cotton outdoor dedicated clothing, including an assortment of layers to keep you comfortable in temperatures ranging from 30 F up to 95 F (Most of the time the workshop will be in temperatures of 65F to 85F, but if the opportunity to visit the peak of Muana Kea arises, it can be very cold at 14k feet of elevation, so it is advised bring along a few extra layers).
What to bring
Camera of your choice
A full range of lens focal lengths from ultrawide to telephoto. Lens covering the range of 14-200mm will be fully utilized. If you have longer focal lengths, they would be very nice to have as well.
Clothing to be comfortable and active in average temperatures of 65f-85f, with the potential of being in temperatures down to 30F.
Water Shoes. We spend plenty of time getting wet on the beaches and in streams. Water shoes are ideal.
Waders(optional). The temperature of the waters we will find ourselves in will be comfortable, but if you'd prefer an extra layer of protection to stay warm and dry when in water, waders are a great tool for that.
Sturdy hiking shoes/boots
Sunscreen
Payment, Terms, and additional information.
Cost of the workshop is $3895 and a non-refundable deposit of $1295 is required to reserve a space on this workshop. The final balance is due and payable 45 days before the workshop begins. Full tuition is due at this time, and there will be no refunds on the full amount owed if you cancel after final payment. However, If we find another client to fill your space, you will receive a full refund, minus your non-refundable deposit, after the workshop has concluded and no other financial disruptions have occurred due to your cancellation. Payment can be arranged through PayPal.
A note about the lava flow on the island of Hawaii. Currently, lava is flowing into the ocean creating one of the most sought after spectacles to photograph in the world. However, lava flow is a fickle thing, and the flow into the ocean could end at any time, ridding us of the opportunity of capturing it. This will change the schedule and the focus of the Big Island portion of the workshop. Should the lava not be flowing during the workshop, a helicopter tour of the big island will be substitued for the lava excursions.
An additional note about the helicopter tour. There are weight limits for helicopters, and even more so for the type of helicopter that is used for the photography specific tour. In order for 3 people to fit on a helicopter, each person will need to be under 200lbs. Any person over that weight will only be able to fly if the other two passengers are lighter and make up the weight difference, otherwise another flight arrangement will have to be made at an additional cost. Please contact for further information or questions.
Travel Considerations
The workshop begins on the Big Island of Hawaii, and ends on Kauai. It is advisable for you to fly in to Kona International Airport, and then depart from Lihue airport on Kauai to return home. The flight between the island should be booked to depart from Kona, Hi to Lihue, Hi. The date and specific time to book will be will be specified for you after booking the workshop.
You will need to rent a vehicle on each island. Travel to the locations for shooting will be done caravan style.
Sign Up or Ask A Question!